Bethesda

Bethesda is a picturesque suburb with a bustling downtown, offering residents the best of both worlds. This affluent community is defined by wide side streets and monumental homes. In addition to large estates, there are plenty of older homes that have been upgraded with modern amenities and luxury condos. Bethesda is home to several corporate headquarters and many professional and medical services, offering small-town living and urban features.

Families and professionals alike adore Bethesda's green spaces, mom-and-pop restaurants, boutiques, and slow-paced lifestyle. Bethesda Row is the place to find an array of services, restaurants, shops, and more. Start mornings with a delicious New York-style bagel from Bethesda Bagels before getting a personalized massage, featuring AVEDA aromatherapy at AVEDA Bethesda Salon and Spa. Get a workout in at Equinox, then head to Nando's Peri-Peri for delectable Portuguese fare. Williams-Sonoma, Amazon Books, and Anthropologie & Co. are just a few of the fantastic shopping options found here. In addition to shops, eats, and services, Bethesda Row features community events, including The Bethesda Row Arts Festival and the Howl-O-Ween Pooch Portrait Pop Up.

Residents enjoy numerous galleries and theaters of Bethesda, along with the annual Taste of Bethesda outdoor festival. Though the festival didn't occur this year, you can look forward to its return in 2022. Galleries, classes, shows, and much more are available at Glen Echo Park, a crucial community cultural sanctuary. Bethesda residents have every opportunity to relax, learn, eat, and play at the drop of a hat.
Capitol Hill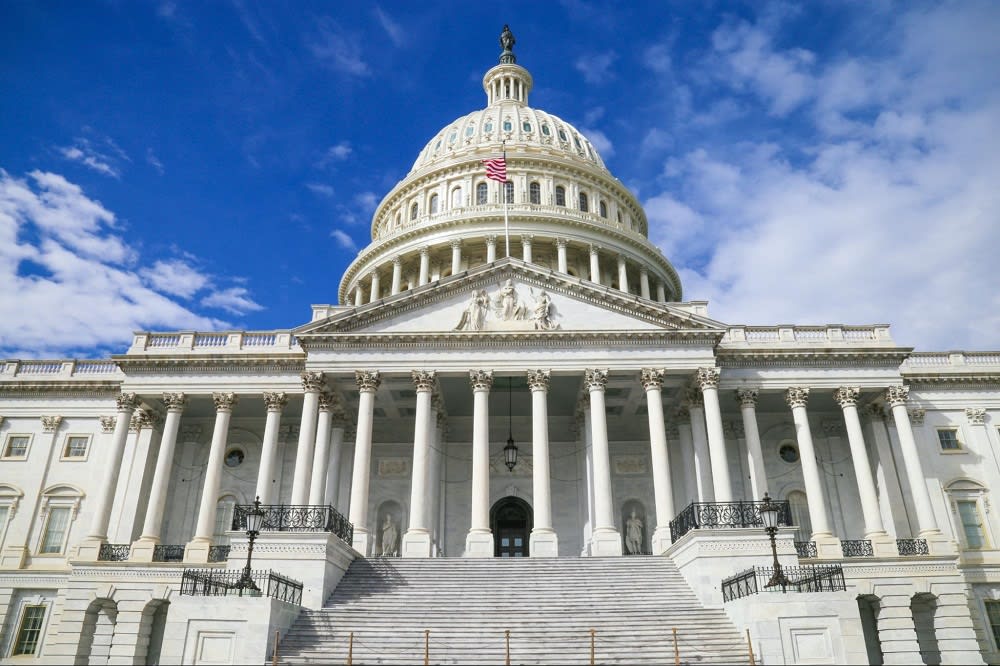 Best known as the home of the U.S. Capitol, Capitol Hill has so much to offer. Capitol Hill features some of D.C.'s most historic homes and national parks, in addition to national monuments, including the Italian-Renaissance style Library of Congress, the Folger Shakespeare Library, and the United States Botanic Garden. Capitol Hill features 19th-century row houses, townhomes, manors, and a thriving dining scene that any foodie would adore.

This historic neighborhood is home to as many as one-third of Congress members. Though the lifestyle here is politically charged, there are plenty of cultural and entertainment opportunities. Established in Capitol Hill in 1932, Folger Shakespeare Library boasts the world's most extensive Shakespeare collection, providing the community with entertaining performances, exhibitions, rare Renaissance books, artwork, and much more. For a night of theater, go to Ford's Theatre to watch a captivating history-based drama, a classic play, an American musical, or other exceptional shows. Head to the National Air and Space Museum to view fascinating exhibits, bond over educational family activities, and relish interactive learning experiences.

Once you've expanded your mind with a trip to the museum, grab a bite to eat at The Capital Grille, a fine dining destination where you can savor lobster and crab cakes and succulent filet mignon. If you prefer an internationally inspired menu, head to the Capitol Riverfront area to eat at Chloe. Here you can enjoy anything from hamachi crudo to spice-roasted chicken, all beside a glass of ice-cold draft beer. Historic, enduring, and cultivated, Capitol Hill is a world-class community suitable for those who treasure culture, history, and food.
Chevy Chase

What was once a farming community, modern-day Chevy Chase offers locals a suburban lifestyle near the U.S. Capitol. Chevy Chase gives city dwellers the ability to live away from work, earning the name "home suburb for the nation's capital." Being a charming suburb, this neighborhood is great for growing families and professionals who enjoy peaceful home life away from traffic and tourism.

Chevy Chase comprises five villages: Chevy Chase Village, Chevy Chase Section 3, Chevy Chase Section Five, Martin's Additions, and North Chevy Chase. Each enclave possesses its charm and character. Regardless of its distinct, separate villages, this neighborhood is still quite friendly and community-oriented. This upscale neighborhood features mostly brick homes with backyards ideal for happy pups and kids to run around, gardening, and family gatherings. There are plenty of Victorians, Colonials, Tudors, and Cape Cods throughout.

There are three neighborhood parks where locals find time to play and de-stress from their hectic schedules. Lafayette Square features a high concentration of historic buildings and a seven-acre park teeming with lush green space for leisure activities and engaging public art. Head to Rock Creek Park, an expansive 1,754-acre city park fit for hiking, picnicking, horseback riding, and fishing for a nice break from the urban landscape. Rainy days are best spent relishing a Planetarium program and visiting the Nature Center. With its quiet, close-knit nature and being a stone's throw away from urban amenities, Chevy Chase is a truly lovely suburb.
Georgetown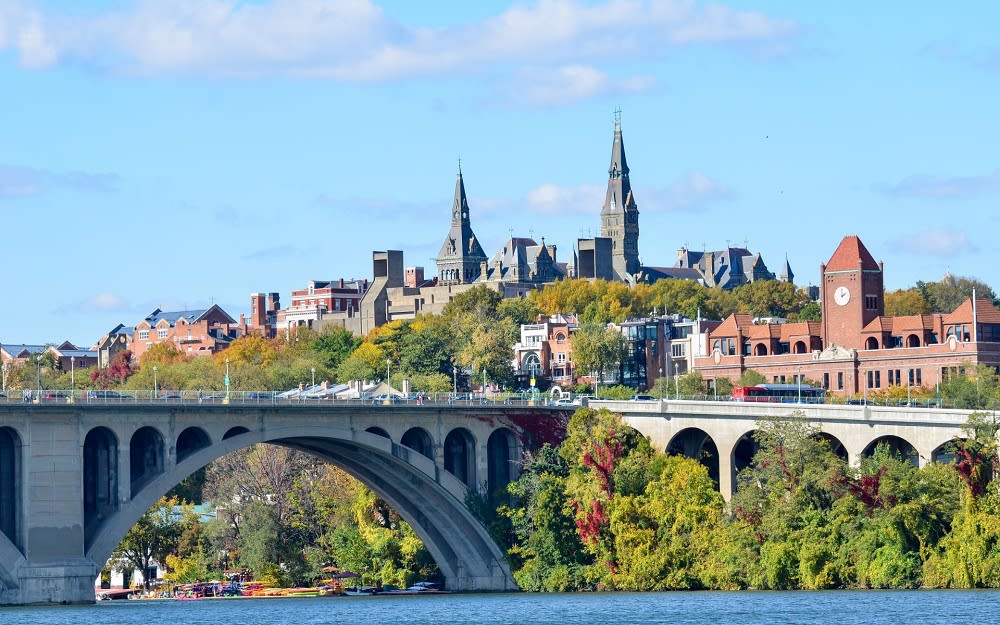 Credit: GetYourGuide
History comes alive in Georgetown. Founded in 1751, Georgetown has a rich past. Most home architecture is Federal style, and cobblestone streets offer many brick and frame row houses and mature grand manors dating back to the mid-1700s. Many students live here due to the two world-class universities, though plenty of young professionals and politicians reside here, too. Georgetown inhabitants appreciate its ample green space, cultural institutions, and restaurants.

Georgetown is home to some of D.C.'s best eateries. The Berliner is an excellent brunch spot, where you can enjoy sausage hash while delighting in waterfront views. Clyde's of Georgetown is a favorite local watering hole ideal for meeting friends over grain bowls and tasty brews. Head to Fiola Mare for your next date night to savor Italian coastal cuisine, luscious caviar, and oysters.

This remarkable community offers more than delicious eateries, there is plenty of culture in Georgetown. Follow the African American Heritage Trail to explore the town's past, and see the institutions of Herring Hill, the site of freed slave and Georgetown resident Yarrow Mamout's home, the Mount Zion/Female Union Band Society Cemetery, and the Rose Park tennis courts. For some exceptional live jazz with tributes to iconic artists like Ella Fitzgerald, Count Basie, and Dizzy Gillespie, head to Blues Alley. Culture, cuisine, and an intricate web of history make Georgetown an extraordinary D.C. community.
Logan Circle

Logan Circle attracts hipsters, young LBGTQ+ professionals, and families with its variety of boutiques, restaurants, galleries, theaters, clubs, and gay bars. This trendy neighborhood features many well-preserved and authentic Victorian estates. Highly sought-after, Logan Circle is constantly evolving.

Logan Circle is a favorite destination for stylish youth. Historic buildings are now the setting for weekend brunches, sidewalk cafes, and photo-worthy meals. Friends meet to catch up and enjoy Spanish small plates and vino at Barcelona Wine Bar. For an eclectic meal with global influences, residents head to Compass Rose, where they can relish a Tour of the World prix fixe dinner with a vegetarian option.

Once locals are fed, they wish to play. When seeking provocative performances or acting classes, residents head to the long-established Studio Theatre. Rock, punk, and electronic musical acts play nightly at the Black Cat. Logan Circle is the ideal neighborhood for young people who value music, restaurants, and various entertainment opportunities.
Southwest Waterfront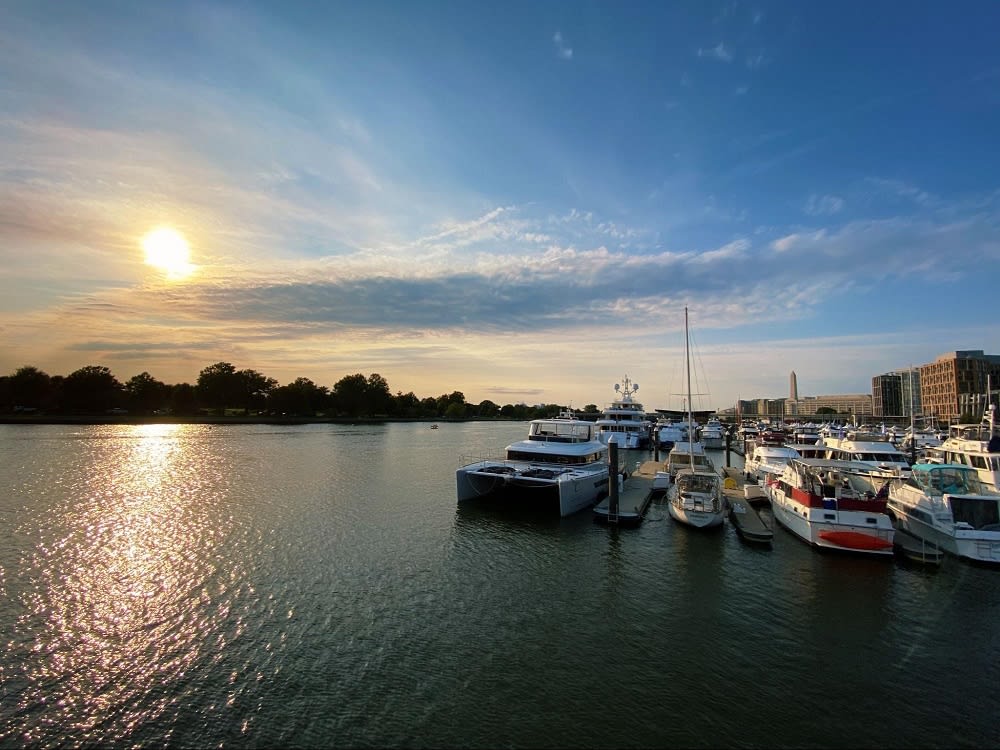 Hip and appealing to various residents, the Southwest Waterfront district grows, improves, and sees new development daily. Buyers and developers are drawn to this area for its prime location. This community features marina living and urban amenities. Residents have a variety of homes to choose from, including condos, townhouses, and luxurious waterfront estates.

This quaint and vibrant enclave is home to many eateries, boutiques, and outdoor recreational opportunities. District Wharf is the premier destination for all of your shopping, eating, and waterfront recreational needs. Grab a steaming hot cup of coffee at Blue Bottle Coffee before heading to A Beautiful Closet for unique gifts, apparel, and jewelry. Fuel up with some fresh oysters at Hank's Oyster Bar, then head to the water for some kayaking or paddleboarding. Find the daily catch at The Municipal Fish Market, drink a refreshing pint at Kirwan's Irish Pub, and find shade under the willows at the Waterfront Park to end your day on a relaxing note.

Recreational and artistic pursuits are also easy to find in Southwest Waterfront. Culture House brings culture to the community via exhibits, educational programming, and special events. Stay active with a visit to King Greenleaf Recreation Center, where you can enjoy the indoor fitness center, gym, basketball court, computer lab, and more. Outdoor features here include a spray park, playground, baseball field, and tennis courts. For a relaxing day on the water, rent a boat from Carefree Boats. No matter the endeavor you pursue, you'll never experience a dull moment in Southwest Waterfront.
Once you have found the right D.C. neighborhood for you, contact the Premier Partners real estate team to assist in your search for luxury homes in D.C. This esteemed team of real estate veterans will provide you with the highest quality service and best possible results.